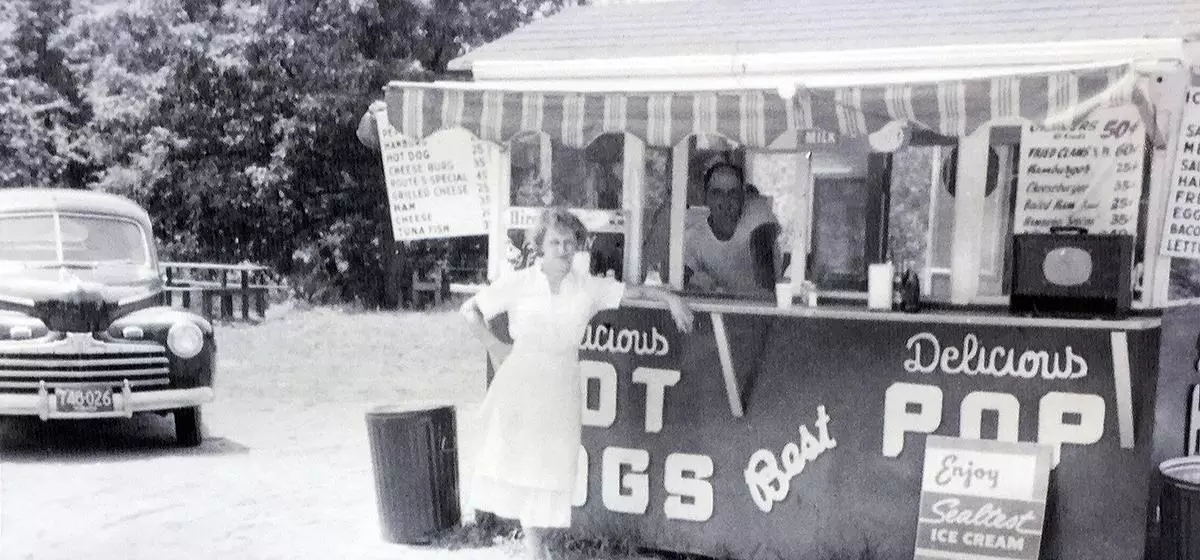 In 1954 Thomas H. LaBelle — affectionately known as "Harold" — converted a small 6' x 12' popcorn trailer into a unique little hot dog stand and began selling steamed foot longs along the Route 5 and 10 corridor of the Pioneer Valley. The hot dog stand became an instant success and its reputation for quality fast food spread around the region. As a result of its popularity, the hot dog stand experienced many physical modifications to keep up with demand. In 1957, the hot dog stand was moved to miles north to where it's located today.
In 1964, tragedy struck when Harold suffered permanent injuries from severe fire that engulfed his automobile while on his way home from work. Harold never expected to recover from the incident much less return to run the hotdog stand for another 20 years. The hot dog stand continued on through the support of Harold's wife Jean and his son tom, for whom the hotdog stand was originally named. Harold retired in 1984 when his son Tom assumed operations.
In 2014, Gary Kloc, a member of the same family that run the famous Whately Inn took up the spatula at the grill and has continued the fine American tradition of great roadside fast food, adding to the menu his own homemade chili and mac and cheese and more, sure to carry on the great Tom's name well into the twenty-first century.
Our classic little piece of roadside Americana has been cited by the New York Times as one of the area's best local stops — an honor confirmed by many who travel far and near to frequently enjoy the experience.
The Kloc family, Marilee, Taylor, and Gary.